Why is the Nissan Titan XD so Exciting?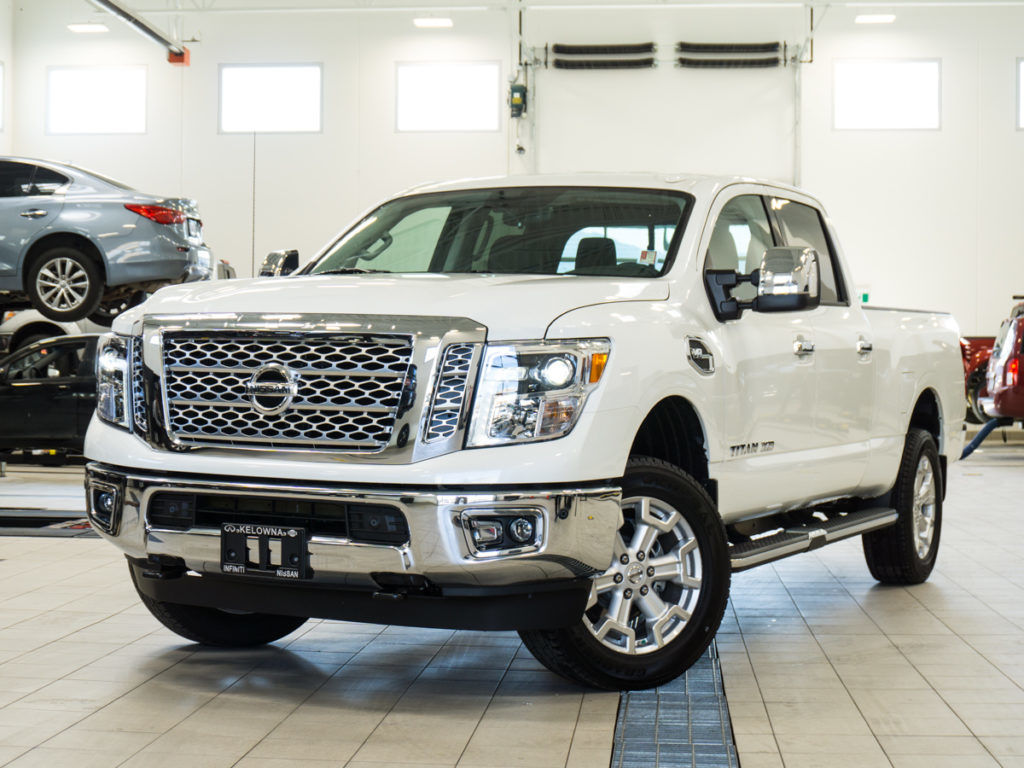 I'm not exactly a truck guy, so maybe it makes perfect sense that I write about my impressions of the 2016 Nissan Titan XD. Truck owners tend to be a loyal lot – once an F-150 owner, always an F-150 owner and all that. The F-150 could be the worst truck on the planet, but an F-150 owner will defend it til their dying breath. I have no preconceived notions about what I want in a truck or what makes one truck better than another. I'm also not particularly loyal to any one brand.
I do have a point of reference, however. I own a 1993 GMC Sierra 2500 4×4 with a diesel motor in it. It's the type of truck that Sam Elliot would wax poetically about in a commercial if he was a pitch man for GMC and not Dodge. It's from an era when trucks were still trucks and not luxury vehicles with a box stuck on the back. They were relatively inexpensive, utilitarian, lacking in creature comforts, and they were designed to work – and work hard and be put away wet. The most luxurious feature in my truck is air conditioning, or maybe the sliding back window.
Japanese car makers have been making small, light duty trucks for generations. They were great for people who wanted to haul a couple of bales of hay, a little motorcycle, or some fishing gear. They were cute, but were never a serious threat to the big three North American automakers. Even the pre-2016 Titan was a light truck. It looks big and formidable, but it has nowhere near the towing capacity and power of the heavy duty offerings from the Big Three. The Titan XD is poised to change all of that.
It's a beauty, and a beast
So what's it like to drive the Titan XD? First of all, it's big. It's big on the outside and big on the inside. The cabin of the vehicle I got to drive is very richly appointed. Comfortable leather seats, a huge center console, a big Infotainment screen front and center. You could, and probably should spend a lot of time familiarizing yourself with all of the controls in this vehicle.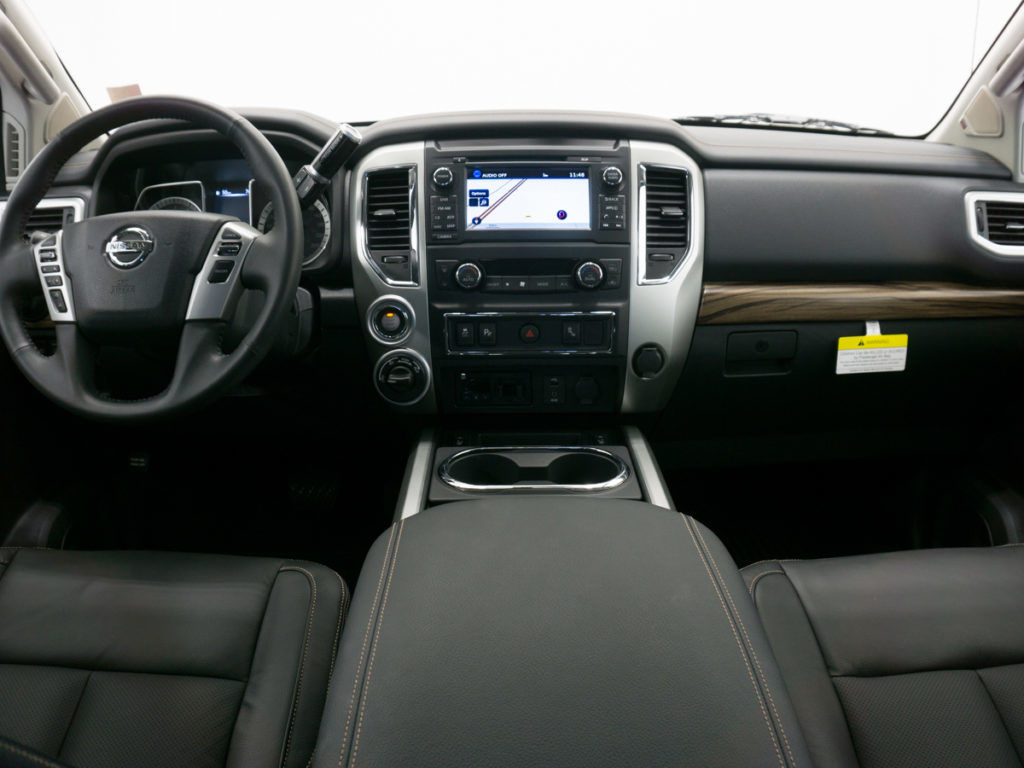 I spent a few moments trying to see where I should insert the key. Of course, the Titan has push button starting. I was somewhat confused because I thought I would have to do something to warm up the glow plugs before starting the truck. The Titan worries about that stuff for you. The engine started with a push of a button. The 5.0 liter turbo diesel Cummins motor in the Titan XD is surprisingly quiet. It has none of the banging and clatter that I've become used to in my old school Sierra. It's easy to forget that you're in a diesel truck.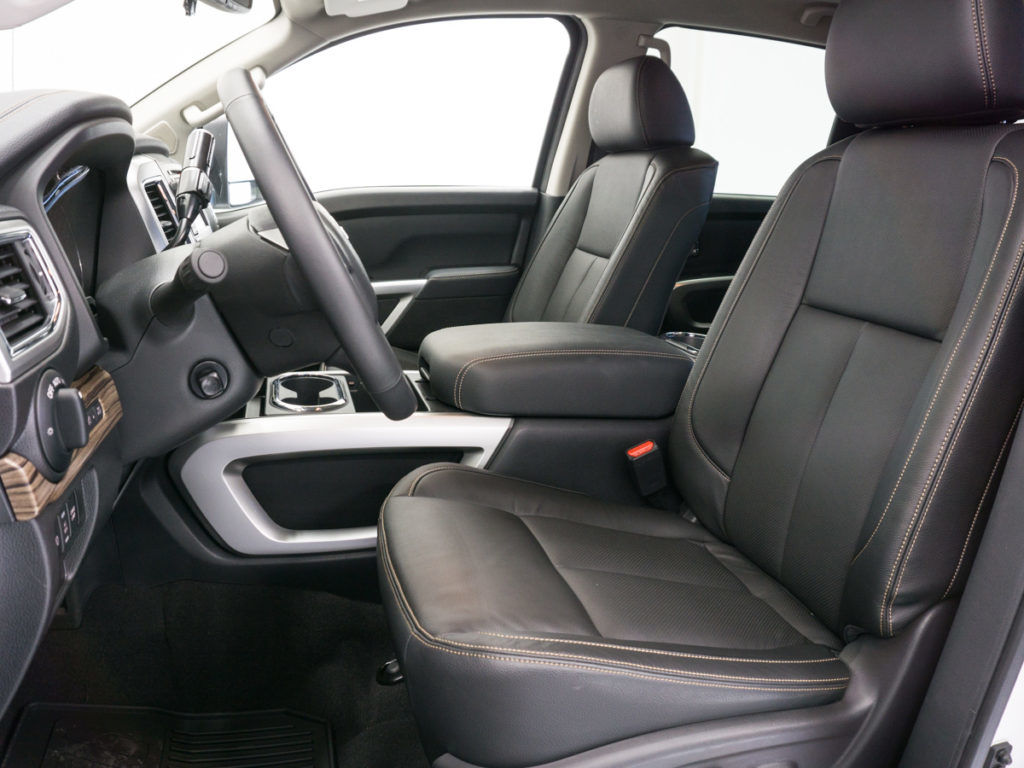 Heading out on the road, the Titan XD immediately impressed me with its quiet cabin and comfortable ride. Even though it's a big vehicle, in no time at all I feeling totally comfortable behind the wheel. Acceleration is smooth and the handling surprisingly light considering the heft of the truck. The premium audio system from Rockford Fosgate sounded great, and didn't have to try to compensate for a loud diesel motor because there isn't one in the Titan XD. The new Titan XD neatly fills the void between light trucks like the Ford F-150 and heavy duty trucks like the Ram 3500. It has tons of towing capacity and torque, but is fuel efficient and responsive enough to be your everyday driver.
With a towing capacity of 12,500 pounds, the Titan XD can tow a big trailer. As I was driving it I was thinking that towing a big boat or a fifth wheel down south would be a dream in the Titan XD – it's luxury and immense power in one beautiful package. With its Rearview Monitor with Trailer Guides and available integrated gooseneck hitch, hooking up to your trailer has never been easier. The true test, I knew, would come when I got back to the dealership. I often get a chuckle out of watching people trying to park or maneuver really big pickup trucks. Our lot is small and quite crowded, and I would have to squeeze this large truck into a very small parking spot without embarrassing myself too badly.
When you put the Titan XD into reverse, the side-view mirrors automatically dip so you can more easily see what's immediately behind you. Very nice touch! Proximity alarms start to sound if you get too close to anything. And of course, there's that big rear view camera display – thank God for the display. I could easily see how close I was to anything that could damage this gorgeous truck on all four sides. As I backed in, even I was impressed with my driving skill. Using the backup cameras, I slid that big truck into that tiny parking spot with a precision of one of the Snowbirds.
Want to find out more about the 2016 Nissan Titan XD? They're here, on the lot, and they're available for you to test drive today. It's possible that towing was never a more comfortable or pleasurable experience.